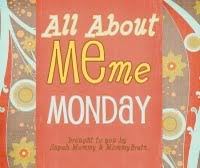 I Cannot (Will Not) Survive Without ...
on a daily basis,
on a deserted island,
with my kids in the car
(you choose!)
Hmmmm....this is my first "All About MEme Monday" and I am so excited to participate but so brain dead this morning (could be that I am 36 weeks pregnant, haven't slept in MONTHS and hosted two big birthday parties for my son this weekend). For those of you who don't know about "All About MEme Mondays" it is a super fun writing prompt put on my
MommyBrain
and
SupahMommy
:)
I am thinking that if I had to be stuck in either my car with my child or on an island.....I would definitely pick a safe tropical island over the very dirty Subaru forester (it is on my list of things to do this week, clean the car)!
So here I am on my safe and happy tropical island (which never suffers from hurricanes or other natural disasters).....what should I take??? Oh and BTW....I am not pregnant on this island...I have lost all of the baby weight and am in the best shape of my life (it is my fantasy right?).
1. My husband--I know this might sound sappy but I love him a super lot right now. He has been a saint and has been so sweet to me throughout my entire pregnancy. I couldn't imagine being stuck with anybody else :) I love you honey!
2. My I-Pod with speakers and a never ending supply of batteries--Silence kills me....I would need some music. I would also need it for my daily runs to keep my body looking super stellar (I really miss running right now).
3. My laptop with internet access--I don't think I could go forever without it and how would I be able to video conference with my children and see how they are doing with their grandparents????
4. A cozy bungalow with a stocked gourmet kitchen for the hubs to cook in and a wine cellar --S is a great cook and I haven't had a real drink in a LONG time!
5. A private jet with a pilot so that the hubs and I could go home and see the kids when we wanted (I am super hormonal and mushy right now, even in this little fantasy) and have them fly in for super long visits (really daddy and I would only need every other weekend alone :)). The jet could also provide transportation for friends and family.....they would only be allowed to fly in when we wanted them though.
There it is....my list of 5 things :) I am excited to check out what other people have written as well. Tomorrow I plan to update you all on the two parties for Z, they were GREAT!